Tomorrow morning, I'll be headed back to Santa Barbara, CA. I'll be so happy to be back in my home and hometown. I've been here in Puebla, Mexico for four weeks, and I've accomplished quite a lot.
For the last day and a half, I've been sleeping and sitting on the couch. Recuperation has been good to me. Pain levels are down substantially from where they were following my last infusion. I'm confident that I can keep them low during my travels tomorrow.
Navigating airports, customs and immigration should be easy as the United representative pushes me through in a wheelchair. A bald man in a wheelchair, wearing a face mask is warning sign that will keep people away. It will also garner some odd looks.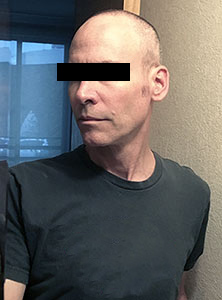 All my hair will be gone in a couple more days.As a "thank you" gift to Clínica Ruíz, I left them with a copy of the chart that I created while I was here. They said they will hand it out to the next incoming group of patients, and Dr. Ruíz said that he will use it in his presentations. The chart is designed so people can easily visualize and make sense of this process.
This gift is also my contribution to George Goss and all the helpful people in the closed Facebook group, Mexico HSCT for MS & Autoimmune Diseases. There are so many great people in that group and others like it, who selflessly answer questions to guide people like me through these trebled waters. Our own doctors don't know much, if anything, about HSCT for MS, so we have to learn it all ourselves if we are going to kick MS and get off those awful DMTs.
Thank you again to the HSCT for MS community, and thank you to all my friends and family who encouraged me to brave this procedure. Your thoughts and prayers worked wonders. ????
I will post my ongoing results in a separate blog, including my EDSS scores as I improve.
Below is version 10 of the Mexican Method chart I created [see the bottom of the homepage for a copy]. Everyone interested is welcome to utilize it. Please leave my credit intact. It will continue to be improved, and I'll post updates here.
Sincerely,
MS Warrior