---
Rituximab binding to CD20. The CD20 proteins are sticking out of the cell membrane, and rituximab, the Y-shaped antibody, is binding to the CD20 proteins. (source Wikipedia)
First Followup Rituximab Infusion scheduled (Week +9.5)
One of the things I have been stressing about the most since returning home from treatment is how I was going to be able to do my five follow-up rituximab infusions. These are available at Clínica Ruíz for about $500 USD. The problem is getting back there. The infusion is a little harsh on the body, so it's not unwarranted to travel there with a companion. Travel is a full day each direction, so that means staying two nights in Puebla, with the infusion in the middle. Add this all up, and it's not only inconvenient for a 1-2 hour process, it's also a bit expensive.
Before I left to get my HSCT, I asked my MS neurologist if he could do the followup treatments here in Santa Barbara. His response was yes, but he didn't think he could convince my insurance company to pay for them. My next question was how much they would cost if I payed cash. He chuckled, "I think around $15,000." Ouch!
After completing the HSCT therapy, I discovered that the followup treatments contain only a 100mg rituximab dose. A full vial is 500mg. So that might make 100mg dose cost $3,000. Hmm. Still expensive and worthy of making the burdensome trip back to Puebla to save some money.
After finding the Cancer Center of Santa Barbara and meeting with Dr. Juliet Penn, I got a much more friendly price: under $2,000 each for brand name Rituxan. Furthermore, I might qualify for financial assistance, which I'm still waiting for a final word on. In any case, two grand is not cheap, but clearly worth getting it done right here in town, where I can take Uber to and from the Cancer Center, then sleep in my own bed that night.
I need five of these over the next ten months, and my first target date is August 15th (two months after my first 350mg dose at Clínica Ruíz). I have an appointment to get it done on August 24th. Not bad.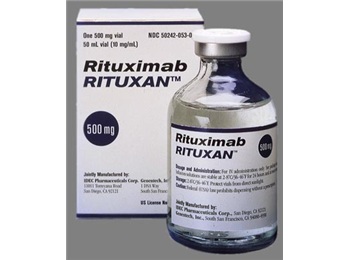 I've heard rituximab referred to as chemotheraphy. And I've heard it referred to as, "this is NOT chemo." In any case, it's an antibody that destroys B-cells (part of the immune system) which contain a CD20 protein. This protien has been identified to regularly attach to autoimmuno-destructive B-cells. The majority of these should have been cleaned out of my system via the high-dose chemotheraphy I underwent as part of my HSCT therapy. But since I underwent a non-myeloabative process, some of these could easily have squeeked through. B-cells can have a memory that they pass to new stem B-cells, so malignant (CD20) B-cells need to be eradicated for generations to ensure the memory of autoimmune is erased from the patient's body.
As Dr. Penn said, "this is a baby dose" of rituximab. It's a way to clean up any scragglers that got through, and a way to prevent a post treatment relapse, as would occur in 10-20% of patients. For me, it's worth it to minimize that chance with this expense since my previous relapses have left me with permanent damage.
By the way, last week my white blood cell (WBC) count was 3,800/mL. Normal range is 4,000 - 10,000/mL, so I still need to be careful.
NOTE: People seem to be calling me "brave" a lot lately. Please read this little article I wrote about that. I'm not brave for doing all this.
Important Timeframes
My Stem Cell Transplant Date: June 5th, 2016
Treatment duration: 4 weeks
Typical onset of disability reversal: +9 months
Typical complete recovery from procedure: +1 to +2 years
Typical maximum reversal of disability: +2 years
Disclaimer
I am not a doctor. I am a scientist (engineer) who has had MS since March 2013.