MISSION STATEMENT
This website documents one man's quest to cure his MS through determination, perseverance and some luck.
Although harsh drugs and strict diet were successfully suppressing my devastating MS relapses, disease progression was quickly deteriorating my ability to walk and slowly deteriorating my ability to think. The logical solution for me was to try HSCT, which was not FDA-approved in the US (at least at the time of this writing), so I left the country to do it. This website documents my research and journey to effect a cure.
Time Since
Transplant:
7 Years 5 Months
No New Evidence of Disease-Related Activity on MRIs
Important Timeframes
My Stem Cell Transplant Date: June 5th, 2016
Treatment duration: 4 weeks
Typical onset of disability reversal: +9 months
Typical complete recovery from procedure: +1 to +2 years
Typical maximum reversal of disability: +2 years
Disclaimer
I am not a doctor. I am a scientist (engineer) who has had MS since March 2013.
Explanation Video
This video explains HSCT in the words of one of the procedure's primary pioneers. If you do nothing else on this website, watch this presentation.
This video is a presentation made by Dr. Richard Burt, a leading pioneer of the HSCT for the autoimmune disease process. This is the single, most comprehensive description of what MS is and why HSCT is so important:
Note that I applied to Dr. Burt's clinical trial and was rejected as I hear most everyone is. He seems to want only people who get really sick, really fast but haven't been sick for terribly long.
The Mexican Method - Protocol Diagram
Below is a timeline I created of the "Mexican Method," as performed by Clínica Ruíz. This protocol is a little different from that of Dr. Richard Burt and Dr. Shimon Slavin, who were the pioneers of this amazing process. As of this writing, this process is not yet FDA approved in the USA, but it is in a Stage 3 Clinical Trial.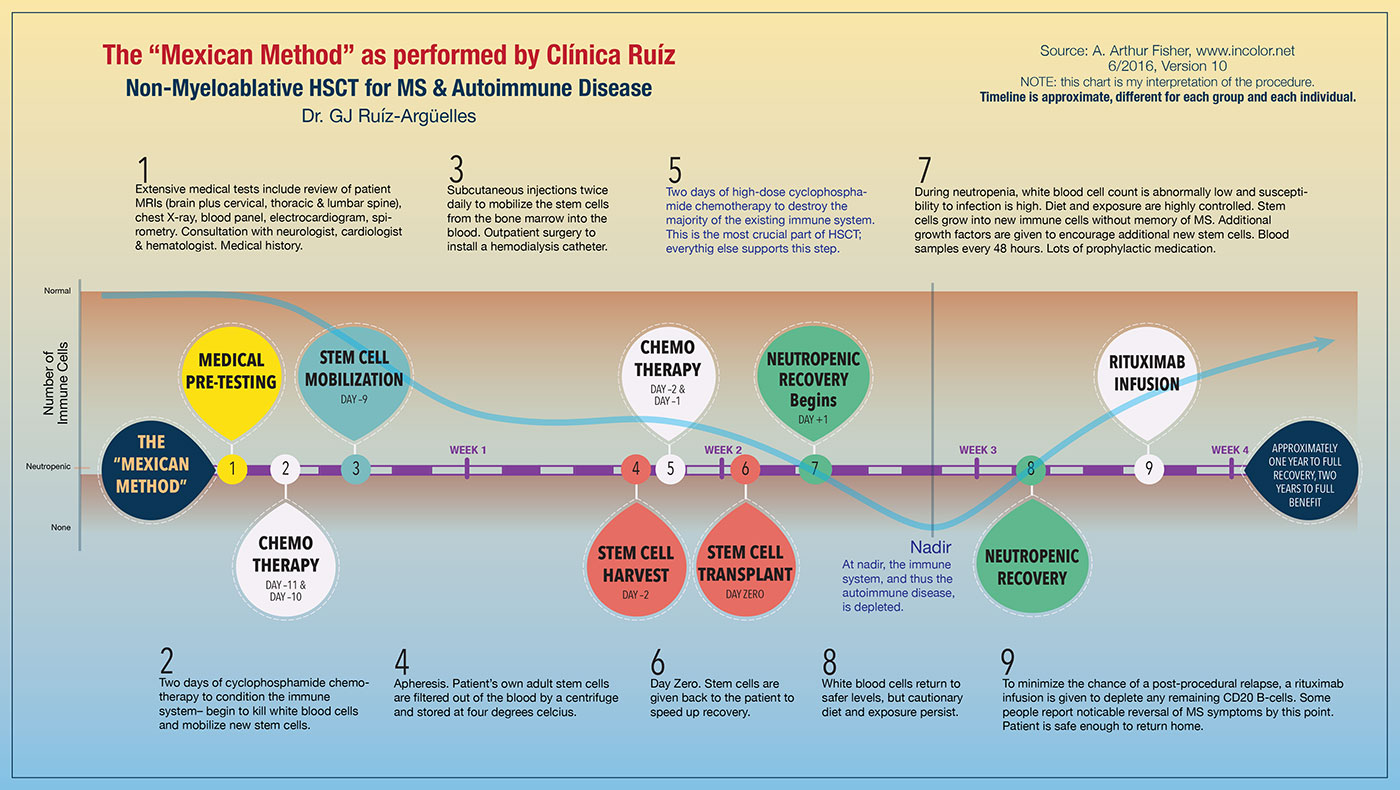 The Mexican Method, illustration by A. Fisher version 10, updated 6/17/16 *Subject to Change!
Download as a PDF (1.83MB)